AVAILABLE FROM
TRANS-ATLANTIC PUBLICATIONS INC.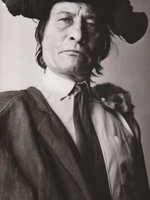 Photography
Attraverso Milano. Photographing Milan
One of the world´s leading landscape photographers, Bernard Plossu has moved his point of view,
leaving aside static subjects to depict the visible in a situation of continuous motion and from a
position that is different from the one usually adopted by photographers covering topical themes.
Basilicata
An extraordinary collection of photographs of the southern Italian region of Basilicata
taken from the air, portrays the splendid landscape of the region in the four seasons of the year.
Beyond the Dark
"Beyond the Dark" is the name of this exhibition of photographs by Luca Artioli: a collection of about
100 images which set out to portray the human mind, inviting us to think about depression...
Camere Oscure
Camere Oscure is a large-format photographic book that amasses the best of
Valerio de Berardinis' photographic production from the last 20 years.
Carlo Orsi
Photographs to Listen To
Cindy Sherman
Series: Supercontemporanea
Community: La Ritualita Collecttiva
Prima e Dopo il Web
Contemporary Vision:
Art & Photojournalism
Ex Casa del Fascio Caserta
The photographer Luigi Spina illustrates the construction of a building designed
during the two decades of fascist rule in its tormented evolution.
Icone. 7.24 X 0.26 Gallery
In the heart of Milan, a small gallery devoted four monographic exhibitions in many Italian actresses,
icons of elegance and charm today celebrate maybe footnotes and even more abroad.
Il Principe Mendicante: Photographic Tribute
to St. Francis Caracciolo
Italian Atlas 007. Landscape at Risk
The Italian Atlas project conceived by DARC periodically brings together several of the world's
best-known photographers; in this volume they are asked to capture the
processes transforming the face of Italy.
Joseph Beuys: Defense of Nature
The Living Sculpture
L'Etica Nel Fotogiornalismo
" ethics are ethics. I don't believe in specific ethics for reporters and the ensuing sub ethics for
photo-reporters". - words spoken by Ferdinando Scianna, one of the greatest
names in Italian photography.
Massimo Gatti: Back Stage
The book contains the most interesting photos from photo
reports by Massimo Gatti. Next to the photo we can see its backstage.
Natural Wonders
Takes viewers on a spectacular journey through more than
twenty of the earth's most treasured locations.
Paola Mattioli
This new title in Electa's BelVedere series pays homage to an Italian photographer who relates stories in images.
Save the Moon
Italy today seen through the eyes of the great photographer Jochen Gerz
Stories on Human Rights by
Filmmakers, Artists & Writers
Transiti Mimmo Jodice
These images by Mimmo Jodice are produced with lucid perception and by giving
himself over whole-heartedly to San Martino or to Guardia Sanframondi...